By Christopher Stapleton, FOTC Education Committee Chair
When my daughter, Zoe, was young and I was working for Universal Studios, our little family used to go to a little Methodist church in Ocoee, Florida. It was such a beautiful little town (since then it has been suburbanized). It was like the little town I grew up in, Middletown Maryland. Middletown is just over South Mountain from Tolson's Chapel. After my tenure at Universal, I moved out to rural Florida to buy a house and raise my family in the country, like my family raised me. There I founded the Geneva Village Rural Heritage Center to bring that community together through informal education and provide a place for my Daughter to love the small town countryside like I did.
Decades later when visiting the Winter Springs Heritage Center (the town next to Ocoee), I learned about the Ocoee election day massacre, it was the first election that both male and female African Americans could legally vote in 1920. The act was legal, but lethal. A whole black neighborhood was wiped out
because they tried to vote. This history was kept quiet for nearly a century: https://www.msn.com/en-us/news/us/history-center-ocoee-exhibit-dives-into-election-day-1920-massacre-and-how-it-relates-today/ar-BB1a1C4m
As I researched more about African American history in our StoryTrove stories, the more depressed I got. I read an historical fiction a few years ago based upon this Ocoee incident and was appalled. It was like so many of the massacres of African American communities that were formerly referenced as "race riots." I thought back to my own hometown and wondered why I never saw a black population growing up (except for going to Orioles games in Baltimore). This year I rented office space in my hometown at the Wren's Nest creative cooperative there. They told me about the whole black neighborhood that used to be right behind the Co-op. There was also a little church and school there, much like Tolson's Chapel. Why did I never know that about that growing up?
In all my trips driving through the Southeast US, I witness all this wonderful countryside and small towns and am awe inspired by the beauty. I realize many of these used to be Sundown Towns where blacks were not to be seen after sundown. They also mostly all had Confederate statues in the center of town. So much African American history is in this countryside, but how safe do they feel visiting their own history? In encouraging the black community in Sanford Florida to visit my Geneva Rural Heritage Center, they shared their discomfort visiting, even though there was an African American community in Geneva, it was seen as a Sundowner Town to them. This is even though Geneva had a whole section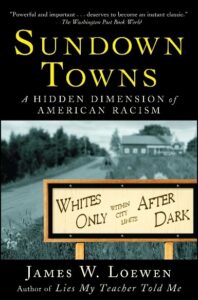 of their museum devoted to the black community's history and featured the first black (and beloved) Volunteer Fire Chief in the county.
I am realizing how important the Tolson's Chapel and School story is to my understanding of American history (https://tolsonschapel.org). It was one of hundreds of freedmen's churches and schools, but this is one of the few that we can still visit in its near original condition. It actually represents the hundreds of beloved black communities in the rural south that formed to support each other through seemingly insurmountable obstacles. How can we bring this history to life where much of the landmarks have disappeared and the stories lost?
Imagine creating a virtual Tolson's Chapel and School for Middletown and all the other small towns, so residents there can see how important this history is. We can show that the Tolson's story has significance beyond its own community and is relevant for the nation. How can we inspire all communities to visit the countryside to explore the rich rural history of African Americans that built the US? How can we make everybody welcome and be moved to learn about this part of our own heritage and be inspired, even transformed?
James Baldwin once said, "Not everything that is faced can be changed, but nothing can be changed until it is faced." How can we face our own history, the good and bad, to feel united in our larger beloved community? How can we revisit history to reimagine the future?
Tolson's Chapel and School is a small place, but it has a huge story. I am glad to be part of a group using virtual technology to help share these stories across the US to help transform this society for the better. We need to face and change our heritage.